Delaware Hayes 2021 fall sports wrap up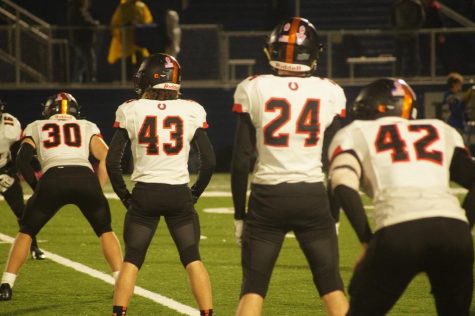 Football
The Pacers football team finished off their season 3-8, with wins against Marion-Franklin, Westland and Franklin Heights.
The boys finished seventh in the Ohio Capital Conference, winning one conference game.
Although it was not a winning season, it was still a season that the players will hold close in their hearts.
"Always know who you're playing for, and as cliché as it sounds, don't take any moment for granted because before you know it, you're suiting up for the last time," senior Frank Mlckovsky said.
With the team being around 80 players, the brotherhood that the Pacers created seemed unattainable. However, it was not an issue for these boys.
"The people I never thought I'd be friends with are now family to me," Mlckovsky said.
With help from the crowd, the Pacers played a normal season, with the previous year being marred by Covid-19.
"Having crowds at games felt like it did two years ago," defensive coordinator Ryan Montgomery said. "We were playing on Friday nights and having the students out there brings a whole different level of excitement for the games."
Although the Pacers will be losing 10 seniors, their family bond will continue outside of high school football.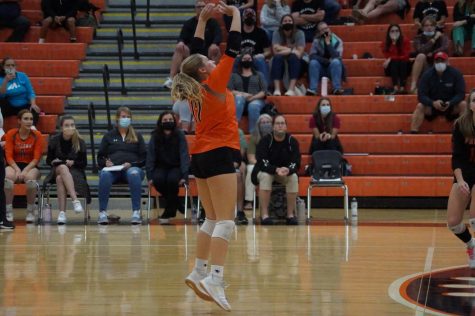 Volleyball
The Lady Pacers volleyball team finished the season with a 15-10 record. They finished 3rd in the Capital Division, winning 8 conference games.
The girls carried out a 5-win streak towards the beginning of the season. Together, they completed 772 kills, with an average hitting percentage of 0.138.
The atmosphere of volleyball adds to the playing experience as well as the bond.
Senior Bailey Christiansen said her favorite parts of volleyball were, "the bus rides, hanging out in the locker rooms, and team dinners."
This year's seniors have been coached by Raynard Martin for the past six years, since he transitioned from coaching at Dempsey to Hayes.
"I will of course miss their volleyball talent, but most of all, I will miss their personalities," Martin said. "They are a good group of girls that I trusted over the many years of getting to know them."
The junior class will carry these traits as they become the role models of varsity in the next volleyball season.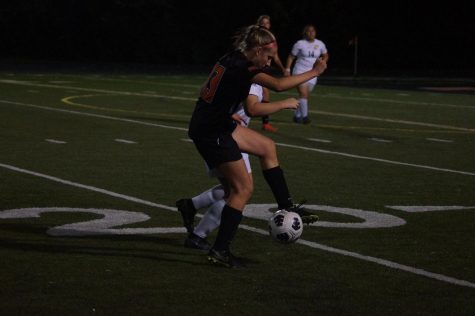 Girls' Soccer
The Lady Pacers soccer team had a winning season of 12-5. They won 6 games on their home field and finished first in the Ohio Capital Conference.
The top goal scorer was captain Ava Bruns with 23 goals. She also was acknowledged as the Ohio Capital Conference player of the year.
This winning season will be one that the girls will never forget. Although it's not always about winning, the girls made a lot of memories when they did.
"My favorite part about this season would be beating Hilliard Bradley in the tournament game and winning the OCC's again," senior Hannah Halstead said.
The four seniors who will be graduating have a strong hold on the varsity team and coaches, because they have lettered all four years.
"I will miss their work ethic," soccer coach Nathan Weakland said. "They are some of the hardest working players I have ever coached."
The seniors have won OCC's for two years now and encouraged the underclassmen to follow those footsteps and to not settle for less.
Close family bonds can affect how the girls play. This year, they came together and made it a season to remember forever.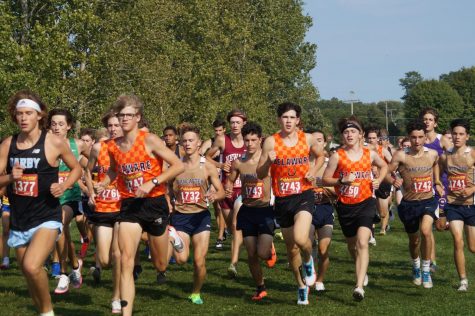 Boys' and Girls' Cross Country
This season was seen as a growing period for both the boys' and girls' cross country teams. Their off-season culture that they established this season started the mindset that will lead to reaching goals and placing higher.
The runners competed in 10 meets this season, all around the area.
"My favorite part about meets was finishing a race," senior Kailyn Smith said. "It's not very fun leading up to it when you have nerves eating at you, and during the race you feel awful, but at the finish, it's a sprint to catch as many people as possible, and I've always enjoyed that."
The way the team worked individually and together was what truly made this season pay off.
"We didn't reach some of our goals, but we had some lofty goals," cross country coach Jim Bibler said. "The benefit was that many worked hard to reach those goals, [and] even though we didn't hit them, the team still benefitted."
This year's seniors got to work in the off season to set new personal records and help out the other runners.
Senior Blake Frisch had a mile time of 4:33.08 and even progressed to competing in Regionals. Junior Rowan Hering also qualified for regionals, with a couple of others just missing the qualifications.
It's not always about the training for these runners. They implemented a bond this season that will tie up the loose ends and help them aim for their goals.
"The thing I will miss the most is the family aspect," senior Trenten Hole said. "[I liked] being close to everyone and being able to rely on each other for help and advice."
With multiple top runners being part of the junior class, the cross country team will have no trouble adapting to the new leadership next year. As they used this season for growth, the Pacers will come back next year- stronger than ever.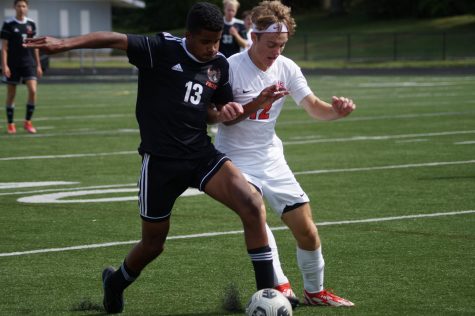 Boys' Soccer
The boys' soccer team finished with a 9-8 regular season record this year, with a 1-5 league record that put them 7th in the Capital Division. The Pacers were powered by leaders like Dylan Ashworth and Abdul Kawa, both seniors on the team.
The season was filled with great moments including a 7-2 win over Johnathan Alder, a 3-0 victory over Johnstown on senior night, and a team trip to an Ohio State soccer game against Bowling Green. However, Kawa said that some of the best times didn't happen with wins and losses at stake.
"Every practice, it was just fun," Kawa said. "I got to spend time with people I've been around my whole life."
Kawa said he'll miss being able to play alongside his friends every game, but wants the team to continue to set high goals for themselves. "Work hard," Kawa said. "Strive for everything you want to achieve."
With many seniors graduating, the Pacers will have a different look on the pitch next fall.
But the chemistry and connection between players is something that they want to maintain. Not just for next year's team, but as a staple of Pacer Soccer.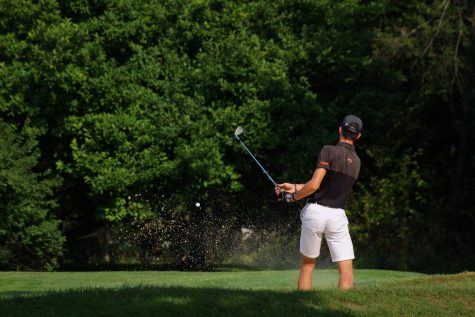 Boys' and Girls' Golf
This season was historic for both of Delaware's golf teams. The Lady Pacers qualified for districts for the first time ever, powered by Delaware great, senior Hailey Dye shooting 70 at sectionals.
She was followed up by sophomore Lainie Rafey and senior Lauren Girouard at 92, and seniors Izzy Crisinger and Madison Bricker at 106. The qualification was a huge accomplishment, one that wasn't lost on the team.
"Getting to be a part of a team that made history was exhilarating and I wouldn't trade it for anything," Bricker said. "The scores were so close and waiting to see if we had qualified was gut-wrenching but totally worth it in time."
Bricker notes how special the team was to her, and how much she valued being together with her teammates. "We have grown closer as the seasons have progressed," Bricker said. "I will miss the girls I spent so much time with dearly."
On the boys' side, the Pacers achieved nothing short of a great season, winning an OCC championship for the second time and senior Colin Bibler taking home OCC Capital Player of the year.
The boys made a district appearance for the first time in their own right, led by Mark Sulek shooting 72, followed by Colin Bibler at 76, andat 79.
All 3 took home Central District honors, with Sulek making 2nd team and Bibler and Gazarek getting honorable mentions. Gazarek said he cherishes the time spent with the team and what they were able to accomplish.
"What I will miss most is the senior guys and how many memories we made over the last four years and all the history we made," Gazarek said.
With many seniors graduating, the team will look different next year.
However, Gazarek said he thinks the younger players can succeed if they commit time to it. "Put in countless hours at the course when others aren't watching," Gazarek said. "It's the behind the scenes practice and work that will pay off most in the long run."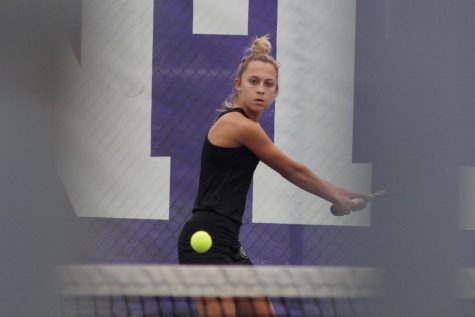 Girls' Tennis
The Lady Pacers tennis team notched a 10-win season and finished 3rd in the Capital behind Big Walnut and Dublin Scioto. At sectionals in October, the team was led by junior Cassie Klumpp at 1st singles, who grabbed the most wins for Delaware on the day.
Senior Sophia Midura talked about the importance of the team aspect of tennis, even though the sport is individualized. "I will for sure miss all of the people the most," Midura said. "Everyone on the team was so accepting and loving of one another. It really was a great environment to hangout with after a hard day at school."
Midura's doubles partner, senior Eliza Riggs, battled injury throughout the season and complimented the hard work of her teammates.
"My favorite part about the season was watching my teammates improve," Riggs said. "I was injured for about half of the season, so I spent a lot of time watching, and I was able to see everyone grow in their mental and physical abilities, which was really cool."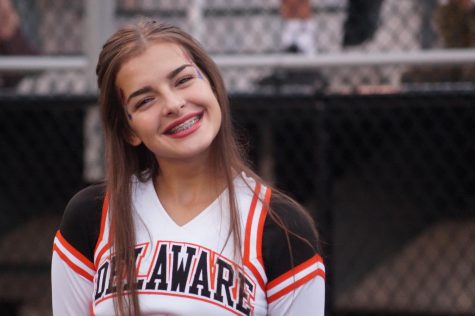 Cheer
The Cheer squad wraps up a busy season with 9 girls qualifying for the All-American Cheer team, and having hosted a Universal Cheerleaders Association camp over the summer. With a large group coming on to the team next year, experience will help usher in the new members of the team.
Aubreauna Otten, a senior on the team, placed a lot of value on her teammates and hopes future cheerleaders will do the same.
"Enjoy the time you have because it really does fly," Otten said. "Appreciate everything you have while you're in high school, especially teammates because those are the girls you'll have throughout your high school years."
Otten said she appreciated being an example to younger teammates and was thankful to be seen as a role model by them.
My favorite moment was the senior circle, where all the girls get together and talk about the seniors," she said. "I realized how much of an impact I've made on the younger girls."