Film students produce movies for Hayes Cinematics
The students of Tom Hering's video production class create and make films for their publication Hayes Cinematics.
"It's a class I've been wanting to take since freshman year, just because I like making videos and stuff," senior Ava Nugent said. "And so I figured out that it's something that I would be interested in doing at college. So I was like, I should do this class because it's a good opportunity."
The students taking the class make independent films, with a group consisting of three to five students. They also occasionally create videos for the district and other outside clients. The students' movies take around three weeks to create, which consist of a weekly process.
"The first week, we have to come up with what we're going to make and we have to start writing a script, and planning, basically what we want to do for the movie …," junior Addie Wernz said. "The second week you go out you film, and then the third week is all editing. So you edit and then if you need to re-film things, you do it, and at the end of the third week, we present the movies in the class."
Pre-Covid, students showed their films to the school in the auditorium, which Hering, the adviser of the class, said he hopes to start up again soon. Students are also able to send their finished movies to film contests.
"I like the community, it's a pretty tight bonded group," Nugent said. "I like the creativity that we're allowed to have. Mr. Hering lets us do what we want and follow a vision that we have."
Hering's role in the class is to guide the students as well as to provide them with experiences, grow their skills and have them be aware of all the different elements of film. Hering said he decided to teach the class because of his experiences with film when he was younger and after the previous teacher of the class left.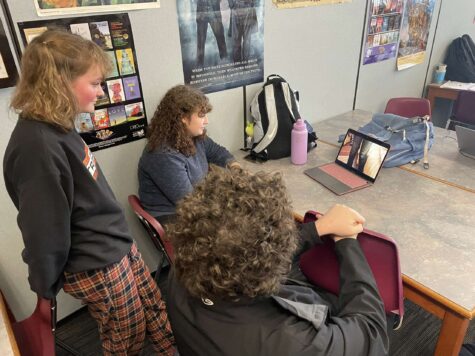 "My older brother Bob was in film school and I got to help him with films he was working on, and so I was excited about the possibilities…of just having fun with students…because I had so much fun making films with my brother," Hering said.
One of the challenges that Hering has is showing the students their own potential and what they are capable of, which caused Hering to implement the mastery scales in his class.
"[Some students might say] I'm just gonna hang back and just be in other people's movies, and so to push them, we started doing mastery scales in this class," Hering said. "And students by the end of the year will be … graded on just two mastery scales, whichever two they do the best, and so a student can't just be an actor anymore. They need to try out other other elements."
Students in the class said that Hayes Cinematics is a good creative outlet for students to show their potential and their filmmaking skills.
"I just think it gives a really good opportunity for people to not only meet people, but to also just be able to have that creative class," Wernz said. "It's a judgment free zone. No one's going to judge you for anything."