In cinemas all around the world, Taylor Swift's Eras tour was released for the big screen this October.
She performed 40 out of her 45 song set list and, despite a couple songs not making the cut, the movie did not disappoint. "Our Song," from Swift's debut album and "You're on your own Kid," from Swift's most recent album were the two most surprising songs that were shown with the performance, as the debut album did not originally make it to the Eras tour. They were the perfect songs to showcase the growth between old and new Taylor.
@YouTube/Taylor Swift
The upclose exposure to Swift's onstage performance also allowed fans to see things happening that they wouldn't be able to see at her tour; fans saw the talented background dancers and Swift's meticulously picked out jewelry.
Fans could also see all of Swift's hand movements and reactions when they watched her up close, like the expression of wounded acceptance on her face as she sang "All to Well" or the power that she held when she sang "The Man."
Watching those feelings play out through each song demonstrated Swift's attachment to them. It was truly as if she was experiencing each era over again within the course of 2 hours and 49 minutes.
Another advantage of viewing it in a theater was that fans could dress however they pleased. There was no pressure to put on a costly costume in order to demonstrate support for Swift.
Either way, fans were there to have a good time and enjoy the artist's music; whether that is while sparkled out or in their favorite sweatshirt and sweatpants.
Additionally, viewing the concert in theaters allowed for fans to sit or stand whenever they pleased. If she was playing a song that didn't need fans to jump about screaming the words, viewers could sit back down and eat snacks, then when they wanted to stand back up again, fans could.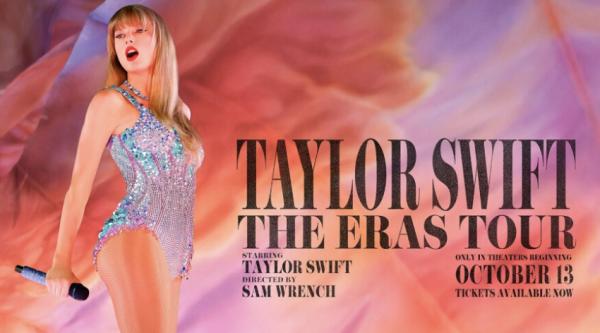 If this was any other experience, the loud screaming and jumping would have been frowned upon. But within the unique experience of seeing the concert in theaters, this was encouraged and accepted.
The laid back experience made it so that more people could go and watch the show. Watchers didn't have to be the biggest of Swifties in order to have a fun time dancing and singing to Swift's pop hits.
This time, the girlhood is stronger than ever with all generations making and trading bracelets, singing, dancing and experiencing the full force of Taylor Swift.