4-H Students Showing at Delaware Fair
Jug week is a nice break for most students as a time to enjoy fair food and carnival rides, but it is a much more important week to many students at Hayes as a week to show off their years worth of hard work.
4-H students spend the year raising their animals to compete and be shown at the Delaware County Fair in September. Animals are judged on a variety of things from how well groomed they are to how well they can follow commands, depending on the project.
Senior Haleigh Oliver has been showing dairy goats at the fair for nine years. Her goats are judged for body capacity, body structure, and how well they are groomed.
"It's like a beauty contest for goats," Oliver said.
There are many different animals that are shown at the fair, all with different criteria on how they are judged. The main categories for animals are horses, goats, llamas and alpacas, poultry, rabbits, and swine.
Freshman Gwen Hupp shows chickens at the fair through 4-H.
"My mom has wanted us to do 4-H for a really long time," Hupp said. "A few years ago she was like 'we're going to try it', and I ended up really liking it."
While being enrolled in 4-H, students are also in a smaller club that meets once or twice a month. The kids have to have a project that they choose to work on for the season. It is typically picked out in April, sometimes, depending on the depth of the project, they start to work on it as soon as fair is over.
According to the Delaware County 4-H Educator Laryssa Hook, inside of meetings there is a parliamentary hierarchy of government. Clubs are required to use parliamentary procedures with the same rules of government that Future Farmers of America are using.
Under these rules, they are required to have a President, Vice President, Secretary and Treasurer, who are the individuals who also run the meeting. Anything that they do or spend money on has to be put forth as a motion. 
"The way we run our meeting is almost governmental, the kids run the meetings," Nick Cherup said, a junior who shows rabbits. "You elect a president and a secretary and all those different positions, and kids have to make motions and second it and approve it. It's like a mini community, it teaches you how to be a citizen."
According to Hook, the main goal for her in 4-H is to see the kids gain more and more skills that she knows they will use both in a career and in leisure for the rest of their lives.
"I hope that kids learn confidence and any skills that they have gained through the problem. I hope they also learn skills that they will have with them for a long time," Hook said. "Also, that they learn it's important for them to contribute back to society and that the people who volunteer for them do so because they want them to improve. I hope that someday they give that support back to the community."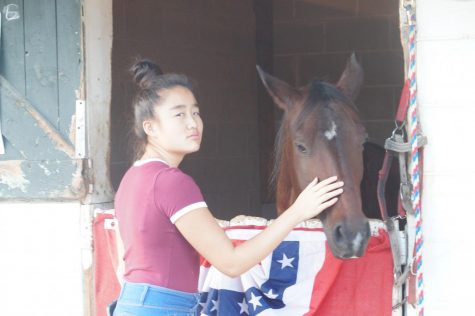 In addition to the enjoyment of being apart of 4-H, students undergo the further development of many skills.
"4-H is valuable because it gives kids opportunity for many skills no matter what they do," Hook said. "There's a lot of public speaking and leadership"
While there are many benefits reaped from being a part of 4-H, it is also a very large commitment with the amount of time and effort it takes in order to do well.
"Every other day I'm spending at least a half an hour at the barn and on the weekends I have to clean out the barn and that takes more than half an hour, maybe an hour plus and then we have meetings monthly," Cherup said. 
Hook said most projects are geared around a year's length of work including raising and prepping the animals, as well as completing a work book, attending monthly meetings, and meeting volunteer standards.
"It's definitely not something that you start working on 24 hours before judging because there's a lot of time and effort," Hook said.
Although it is a lot of work, the reward reaped in the form of life skills compensates well.
"It definitely makes a lot of kids really responsible," Hupp said. "With raising animals you have to feed them, take care of them, and that's sometimes hard for people."
For many of these students, the work put into fair is something that translates into possible careers, making it even more valuable as a skill builder. 
The time Hupp has spent raising her chickens and conducting research has pushed a consideration towards future careers.
"Being able to raise them and understand how they work and think is really fascinating to me, so I'm thinking about going into some science like that," Hupp said.
Skills like time management, scheduling, communication, and hard work are all valuable lessons that forever shape the kids involved in 4-H from the time they begin.
"I know many kids where the projects they have taken have lead them to career and future interests," Hook said. "Sometimes it's the skills they're specifically learning but sometimes is the soft skills that they learn throughout the project that they'll use for a lifetime."
4-H is most often something kids are involved in from a young age and continue through high school. 
Beginning her senior year, Oliver showed goats for the last time this September.
"I'm going to be at college and I don't plan on staying around Delaware so it'll be my last year," Oliver said.
As seniors like Oliver leave, Hook looks for new kids to come in to join 4-H.  Hook works with families and kids from a young age and sees them begin to fill leadership positions in 4-H.
"I get to see them grow and develop into mature leaders who then head out to college or career paths that 4-H has helped influence," Hook said. "That's my favorite part."
In the fair, students learn sportsmanship through competing with other students. For many, they form friendships with students across Delaware County, which is a unique experience.
"You might need to be in the ring up against someone but you still help them out," Hook said. "We see kids still helping someone out and learning to compete against each other but still have sportsmanship through that competition."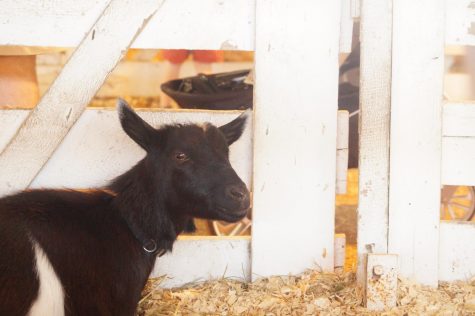 According to Cherup, he has gotten the opportunity to meet people across local school districts as well as kids from other states through his experience at the Ohio State Fair.
With this strong sense of community through 4-H, students are competitive but supportive of each others victories.
"I really like how it feels to win," Hupp said. "This past fair, one of my sister's chickens won first in her category and third overall."
Whether students win ribbons or not, there is always a pay off for the amount of work put into 4-H. The fair is a time for students to show off the lifetime set of skills they've been growing.
"[Fair is] what I work for all year so when I get there it's go time and I get to actually use all the stuff I've been working for," Cherup said.
After a good year of fair, another season of 4-H projects begins and the next fair is in sight with awaiting opportunities for new and old 4-H members.
"I one-hundred percent recommend 4-H," Cherup said. "I mean, it isn't even always about animals, they have a lot of projects out there that are about fashion or cooking or even shooting so there's always something you can find to do."