Coffee with a Cop Comes to Hayes
From 3rd through 6th period on Oct. 2, 2019, Hayes hosted its first ever Coffee with a Cop event. 
The event took place in the Hayes LRC and was mainly run by librarians Sarah Ressler and Katrina Strubler. Other Hayes staff, including Ric Stranges and Adonis Bolden, and school resource officer Joe Kolp were also heavily involved in pulling off the event. 
According to the Coffee with a Cop organization, the first event took place in 2011 in Hawthorne, CA. The idea quickly spread to other communities. Today, over 10,000 events have been held. Though there have been thousands of meetings, the organization works to maintain one goal: to bring the police force and community together.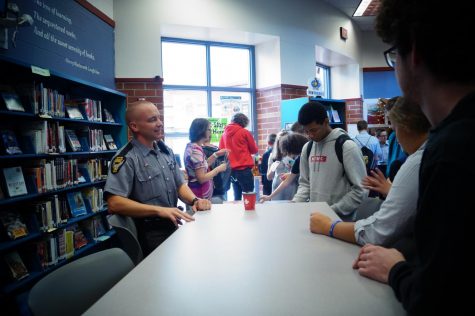 "It's huge in building that relationship," Kolp said. "Just letting people know that just because you see the uniform, we're no different than anybody else."
The city of Delaware has hosted Coffee with a Cop events for years, but this was the first to be held in the school.
"The school invited us, it was [their] idea to come in and host inside the building," Kolp said. "We're all excited to be here just to get law enforcement and the public in a laid back environment." 
The school was most excited to be able to get the community together to spark conversations about controversial issues. With law enforcement and the students of Hayes, each side got the chance to connect. 
"I really just wanted us to get to know each other,'' librarian Sarah Ressler said. "[We're] having good conversations about what does it mean to be a good police officer in terms of careers, in terms of struggles, [and] in terms of issues with racism."
Ressler also believes the event helped the community discuss current social justice issues. 
Though some students found it intimidating at first to talk to the policemen, the organizers worked to create a light-hearted, friendly mood. Dr. Bolden brought doughnut bites and Officer Kolp made a trip to Tim Hortons to get a carton of coffee for everyone.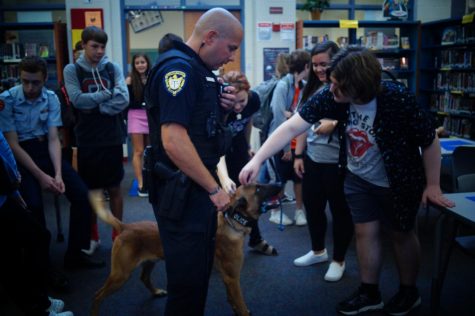 "The policemen are really nice," freshman Madelyn Graham said. "[Officer Kolp] told us all about his favorite food and favorite donuts."
Aside from doughnuts and coffee, many students found the time valuable for establishing good relationships with cops.
"I feel like it builds more of a connection between the officers [and] authority figures of our town with the community, so it's a great way to make a more friendly community," junior Jackie Jones said.
Both police officers and the Hayes staff believed the experience was enriching for both sides to understand each other and beneficial for the community's growth. The event even ran out of both doughnuts and coffee because the turnout was much bigger than expected.
"I definitely see this as something we can do again here," Kolp said.
After leaving the event and meeting the officers, students were left with a positive outlook on Delaware's law enforcement. 
"Cops are cool," Freshman David Cauley said.