Student shares Halloween spirit all month long
Though Halloween is only one day in the month of October, most people dedicate a few extra days to celebrate and enjoy the spooky spirit.
However, one student has decided to make all 31 days about Halloween.
Junior Bre Burns comes to school everyday with a new costume to celebrate her favorite holiday. 
Burns' American literature teacher, Nicole Arnette, noticed the costumes right away and paid attention to the detail she put into each one.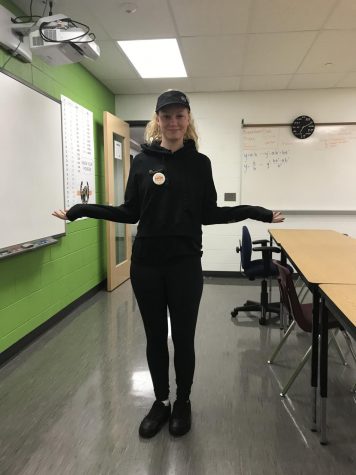 "It was at the beginning of October that I noticed that she was dressed like the girl from the DC comics… Harley Quinn," Arnette said. "Then the next day she had on something else and I was like 'I think she's dressing up."
Her English teacher was not the only one that took notice on the costumes. Math teacher Andy Graham was interested in her idea as well.
"Everyday I talked to her about what she was that day," Graham said. "My favorite was Phoebe."
A few of Bre's costumes throughout the month consisted of Phoebe from Friends, a hippie, a scarecrow, a doctor, a prisoner and she even used her mother's old cheer uniform. 
Burns came up with this month long idea by herself after recently overcoming her personal challenges.
"This year I really found a lot of self confidence, and I found a lot of happiness in things I'm doing," Burns said. "When I was wearing these costumes, it took a lot of confidence to wear something totally out of the blue where everybody is staring at you all the time. It just fed into me being okay with myself and my personality. "
Though her idea did draw attention from others, that was not her main goal.
"It's a way to celebrate Halloween. I get to show off my fandoms, and my ability to do special effects makeup," Burns said.
Burns used her creativity and her resources to help prep the costumes for the full month.
"I did do a little shopping," Burns said. "I would plan stuff the night before and if I didn't plan it up the night before, I would just somehow throw it together five minutes before the bus got there."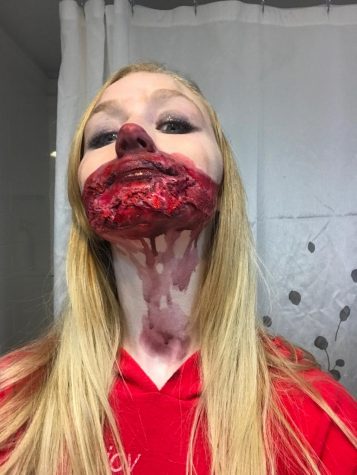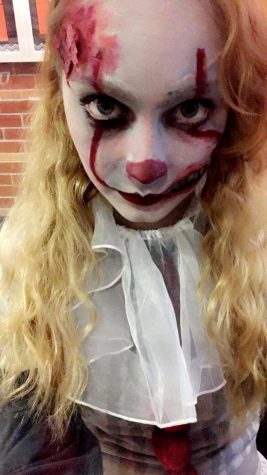 The attention Burns has received throughout the month was all positive.
"I think it's unique," Arnette said. "I think it's fun and festive."
Students think it is entertaining and often keep up with the costumes every day.
"When I get to my drawing class, everybody there are juniors so they're all everyday asking me 'hey, what did you dress up as today' or 'who are you today'," Burns said.
Graham is amused at the way Burns wears the costume like it is a normal outfit and how she doesn't make it a big deal. 
"I think she's unique and she likes that," Graham said. "She doesn't do it in a brash way. She doesn't come over the top with it, just if you notice it, you do, if you don't, she doesn't care." 
Burns has thought that this has helped her feel comfortable with herself and enjoyed being able to express herself. She hopes others can feel the confidence as well if they choose to do something similar. 
"I really feel like this was a way for me to own myself and weird personality," Burns said. "I feel like other people should feel free to express themselves how I have in their own ways."
Because of all the positivity Burns has received and all of the fun she had, it's a possibility that she will try it again next year. 
"I'll just have to reuse some of the costumes," Burns said. "…I got really into it. It was a really fun way for me to express how much I love Halloween."