Hayes theater department announces spring musical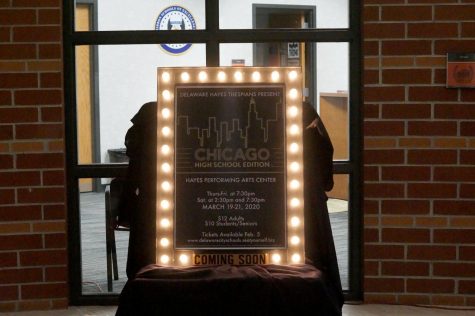 After seeing a chair embellished with lights, drapes and a sign, it was suddenly apparent to Hayes students that the 2020 spring musical would be Chicago.
The only hints that choir teacher and musical director Dara Gillis had given before the reveal is that it was being told on Wednesday the 29 and that it would present a difficult challenge to the dancers in the drama department.
Gillis lived up to that promise by choosing Chicago as the musical. The star of the show being a woman who wants to be a famous stage dancer, however, she starts in a nightclub singing the iconic song "All That Jazz".
While this musical is a timeless piece, it may also be concerning due to the risqué themes being portrayed by high school students, some of whom are only 14 years old.
Others are also worried that the musical will then be subpar or cheesy due to any alterations that may be made to the script in order to make it appropriate for the audience.
All in all, the Hayes Drama Department has a reputation for performing well no matter the difficulty of the roles so if this musical is to follow suit, everyone should be excited to see the performance next spring.