Swim team starts up season with new practices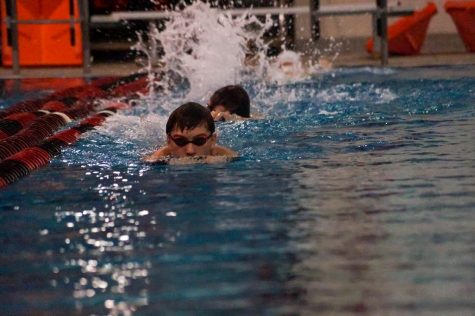 The Pacers' swim team looks to start off the new season strong as they begin their 4 a.m. practices. 
Practices used to be held in the evenings for the past couple of years. This year, the team moved the practices to before school and saw benefits.
"Coming back to the morning helps kids schedules because they are involved in boy scouts, choir and extra curriculars," coach Jordan Nicol said.
As the year starts up they look back on last year and what they accomplished. Last year the team finished with swimmers improving their times and also taking a boys and girls relay to states.
"I think we had a very successful season [last year] for the low amount of people, especially on the boys side," senior captain Aidan Stojkov said. "Coming into the season a lot of them were new and we developed those swimmers."
The team last year had many improvements and senior Olivia Reed feels it was one of her best seasons on the team.
"My freshman year I struggled with shoulder injuries and then I was out my whole sophomore year with a dislocated shoulder and muscle problems," Olivia Reed said. "But last season, I was able to swim the whole season and found out what event I was really good at."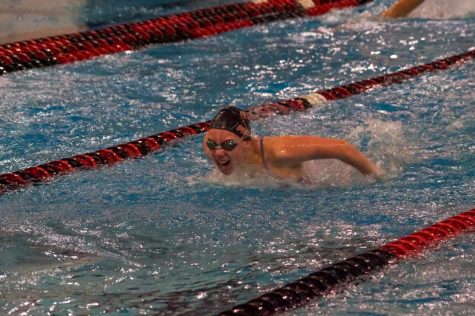 Olivia Reed has been a long time member on the swim team and she is hoping for the girls to win the OCC this upcoming year.
"I really hope that the girl's team can win OCCs again like we did my freshman year," Reed said. "That would be a really good way to end my senior year of swimming."
Coach Nicol is looking to rebuild the boys team further and is wanting to get a girls relay to states again. He also looks forward to improving himself as a coach. 
"I look forward to improving some of the basics for the kids, just taking a little bit more time out of practice to kind of slow down and go over the fundamentals," Nicol said.
The team looks to build on last year's success, improve the team as a whole and send a few swimmers to the bigger meets. 
"I'm hoping that we have a couple new swimmers to the team and a couple more freshman," Stojkov said. "We are hoping to take as many points as we can at the OCC meet and take as many swimmers to sectionals and districts this year as possible."