Teachers communicate with students from the safety of their homes
As a pandemic affected the world, schools and universities had no choice but to start the learning process online.
Delaware City Schools started a cancellation of schools due to COVID-19 on March 17 and classes started up online later that week, on the 19th. 
With the lack of face-to-face communication between staff and students, some teachers had to get creative to stay in touch with their students. Most teachers, such as ceramics teacher Cynthia Vaught, use Canvas to upload assignments and videos. 
"Mr. Scott has tutored me in using Canvas because I have not [used it] for a few years," Vaught said. "I have been posting assignments and videos daily. I am getting more comfortable with the video part."
Though assignments are still given out to students, a few changes had to be made. 
"I am trying to have assignments directly related to the subject of ceramics," Vaught said. "We have been told that our primary mission is to connect with students, not overwhelm.  So my assignments have been super simple and easy to do."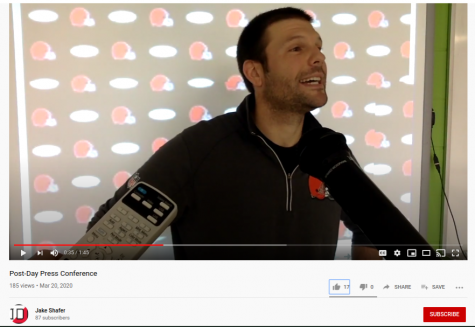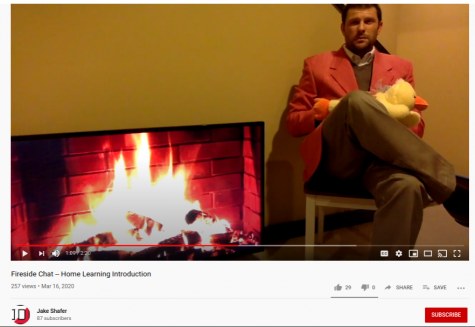 Math teacher Jacob Shafer uses multiple platforms to keep in touch with his students, giving them content to look forward to everyday. 
"I have been communicating to students every day through Canvas announcements and Canvas video conferences," Shafer said. "I have also been using daily YouTube videos to stay connected and stay light-hearted during a time that has been difficult for all of us.
Some teachers aren't only reaching out because they have work to assign but instead miss the daily connection they had with their students. 
"To be honest, the biggest motivator for me is that I really do miss all of my students every day. I love what I do, I love coming to school, and I love the people I get to spend my time with, so I am trying my best to engage with them as much as I possibly can," Shafer said. 
Most teachers have utilized Canvas and Youtube to reach out to their students but band teacher Andrew Doherty has done something a little different along with using those two outlets.
"I have used Instagram Live everyday to interact with students while we are stuck at home," Doherty said. "I also try to update our Instagram page daily so that band can continue to be a part of everyone's life."
Instagram is not the only way he has been able to keep busy.
"I started a podcast," Doherty said. "It is going really well so far. I have interviewed a trombone player from The Westerlies and have interviews lined up with executives in DCI [Drum Corp International], the director of the OSU marching band, and many more."
With all of the teachers' efforts, students can easily access their school work and can keep in contact with their teachers. As they help students, they still have to face hardships of their own. 
"I'm an extrovert and this is a tough time for us right now," Doherty said. "I miss all the students and making music with everyone. It's also a lot of nights in a row to cook at home."
Vaught also misses the interactions with her students. 
"I am realizing that I miss my kiddos a lot," Vaught said. "Seeing my students improve and make art they never knew they could make. I miss the routine."
Though these times can be tough, it is best to take a break from the normal routine.
"Start a project, get that dusty guitar out of your closet, or create something new. It will help take your mind off of the things we're missing out on," Shafer said. 
Vaught, who practices meditation within her class, thinks students should stay mindful during this time. 
"Relaxing your mind and getting lots of rest, laughing when you can and just knowing that it will work out," Vaught said. "Dr. Stranges, Dr Bolden and Mr. Reeder are doing all they can to make this situation as good as it can be."
Though it is unclear as to when students will be returning to school again, it is clear that there are important lessons to be learned during this time. 
"I have learned to appreciate the days we get to spend together in school even more than I already do," Shafer said.