California experiences record-breaking wildfire season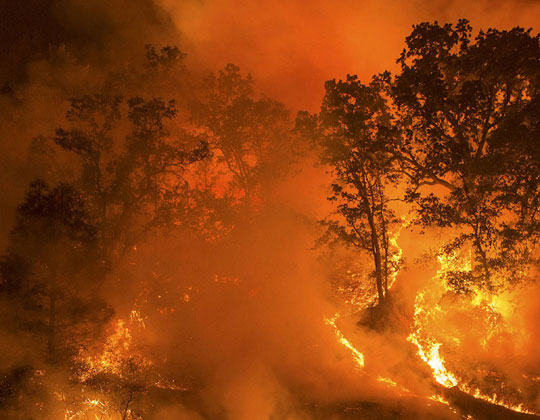 Wildfires across Washington, Oregon, and California are worse this year compared to any other.
Five of the largest fires in California history occurred this summer. The August Complex spread the furthest, greater than 970,000 acres. The SCU Complex and LNU Complex fires have both burned almost 400,000 acres. The North complex and the Creek Fire have each burned more than 300,000 acres. 
The August Complex Fire is now the biggest fire in California History, according to ABC News. It burned more than 800,000 acres, destroyed 86 structures, and caused 1 casualty. It started as small fires that were caused by lightning strikes in August. Eventually, these small fires united and created one immense fire. 
These fires are causing the skies to fill with smoke, which is creating an orange and red hue in the sky. Ashes are also floating throughout the air and coating the ground. The smoke from these fires has been traveling hundreds of miles, affecting the air quality in places far beyond the reaches of the actual fires. 
Many locals who live near fires are being affected in many ways, with some even being evacuated from their homes. Sixteen-year-old Jack McNeill, who lives in Carmel California, was affected by the River Fire that was located in Carmel Valley. This fire burned 48,088 acres and destroyed 30 structures in August. "The smoke made the air quality really bad… we got an evacuation order, so we had to pack all of our stuff and get ready to leave," McNeill said in a Talisman interview. 
Sixteen-year-old Federico Soto lives in Lake Stevens, Washington, and was also affected by the wildfires, even though one did not actually occur in Lake Stevens. "You could smell [the smoke]," Soto said in a Talisman interview. "[The smoke] looked more like a slight fog."
Even once the fires are 100% contained, they leave significant damage to structures, homes, and lives.
The River Fire reached 100% containment in early September, according to reporting from the San Francisco Chronicle.  As of October 2, the California Fire organization reports that the August Complex fire is 51% contained. At least five other wildfires are currently burning in California, including the Glass Fire (6% contained) and the Zogg fire (46% contained).
To help locals who have lost their homes, jobs, and parts of their city, you can donate to the California Wildfire Relief Fund.