DCS implements safety protocols to reduce virus risk for back to school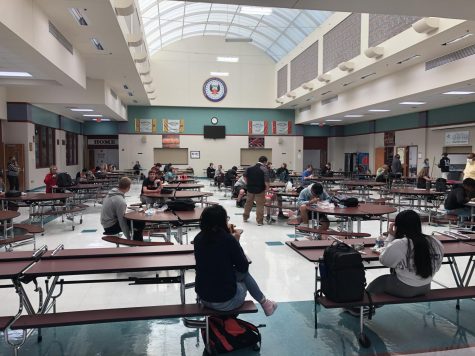 With the school year starting amidst a pandemic, Delaware City Schools's Healthy Restart Plan makes the return to school very different.
Before the start of school, students and families were presented with two learning options for the first semester.
The first option is a hybrid learning model in which students attend in-person learning approximately halftime and complete online assignments on remote learning days. 
Students are split into two groups based on last name and attend school on their group's assigned days.
The second option is an all-online model through the DCS Online Academy. Students in the Online Academy meet with teachers virtually and work on online assignments from home.
Even with 1500 students all online and the rest of DCS students split into two groups, several other health and safety protocols have been put in place, such as mandatory face coverings on buses and in the schools.
Additionally, the district has introduced a myriad of sanitizing and social-distancing procedures.
Although DCS is only a month into the school year, Superintendent Heidi Kegley has high praise for the district.
"I think our start to the school year has been exceptional," Kegley said. "It shows that everyone's planning, and all of the preparation, has worked."
Planning the return to school was long in the making, as it began in late May.
However, thanks to the experience with distributing food during the lockdown in the spring, the district already had an idea as to what safety protocols would look like. 
"We knew the process of coming in for the staff and having temperatures taken, the wellness checks, working in our small groups, wearing our masks, being socially-distanced…" Kegley explained. "So we were all able to work on all of those pieces, even before we had started planning for the return to school."
One part of planning involved dealing with the unique challenges presented by the different schools across the district.
For the elementary schools in particular, making sure playgrounds are safe was important to focus on.
According to Kegley, the start of the district's staff program in July was not only a major help for elementary planning but also K-12 planning as a whole, especially as they brought some students back for school-aged child care programs.
"We were able to learn a lot from their work and their expertise as they created programming for our students within our schools and on our playgrounds," Kegley said.
Unlike the elementary schools, the middle school and high school have no playgrounds to worry about. However, concerns about hallway movement were much more prevalent. 
To improve safety, one-way halls and increased time between classes help reduce crowding.
Within the classroom and cafeteria, safety protocols such as socially-distanced seats and seating charts can help the district and the Delaware General Health District keep track of exposure to Covid-19 if necessary.
Seating charts are a key component of contact tracing and the overall Healthy Restart Plan.
"The health department is definitely the expert on contact tracing," Kegley said. "And one of the pieces for our plans that we submitted to the health department was ensuring that we would have seating charts for both classrooms, our cafeterias, and our school buses."
If there is a case of Covid-19, the health department can quickly notify the families of students who may have been exposed and instruct them on what to do next.
Recently, Delaware country temporarily moved up from a level 2 public emergency to a level 3, meaning very high exposure and spread.
However, public emergency levels don't necessarily affect in-person learning.
"The county schools and our health department made the determination to not [have] our school attendance be based on the levels," Kegley explained. "What we would do is work with the health department looking at each individual school district, and each individual school within that school district to determine whether we were operating in a place that was following all of the health and safety standards."
Although DCS is prepared to go all-online if necessary, it is unclear what would warrant that action. At the moment, the district can only continue to look at the numbers as well as the situations within each school.
Though there's no certainty for the future, Kegley applauds everyone's efforts to keep one another healthy and safe.
"I just want to make sure that our families, our staff, and our students know how much we appreciate everything they are doing to follow the health and safety protocols that we've put in place that allow us to be able to have the opportunity for in-person learning and continue to work together," Kegley said.