Hayes sports during Covid-19
School sports look different this season due to the impact of Covid-19. As fall sports are underway, Hayes is focusing on safety as their top priority. Keeping athletes, coaches, and fans safe while attending sporting events has been a difficult task to manage.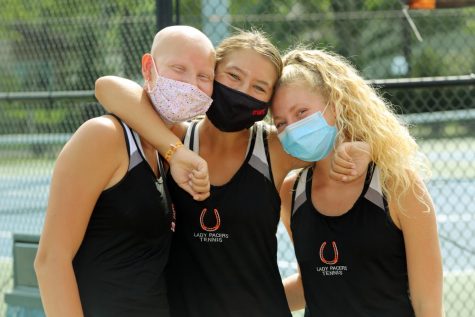 Hayes High School is preventing the spread of Covid-19 in sports through a series of protocols. Defensive Coordinator Ryan Montgomery has taken several precautionary steps with the football team.  
"Some things were done for football before every practice, the kids have to get their temperatures taken when they come in. They have to wear a mask to and from practice. They are not allowed to gather in groups." Montgomery said. 
In addition to preventative steps, the team monitors the health of each athlete for any symptoms.
"While out there we also go through our Covid-19 checklist, checking to see if they have had a sore throat; headache; fever; or been in contact with anyone with Covid-19, they have to answer no to all those to be allowed to participate," Montgomery said. 
Due to the virus spreading, Hayes is making sure that any reported symptom is evaluated. Athletic Director Steve Glesenkamp is working closely with coaches and trainers to ensure safety. 
"We will contact athletic trainers to let them investigate further," Glesenkamp said "We may call their parents and hold them out that day."
Along with checking for symptoms, Hayes emphasizes using extra sanitization, especially in the weight room.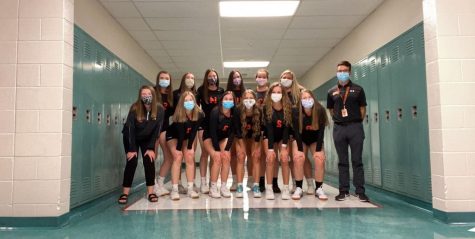 "Lots of hand sanitizer; we have chemicals that we can spray on the bars; so when people are touching them as soon as someone gets off, we can clean them," Glesenkamp said. "Taking every precaution we can with the chemicals we have to potentially kill any viruses if they are there."
Another change brought on by Covid-19 is the lack of locker room use. 
"We are doing everything we can to discourage the use of locker rooms," Glesenkamp said. 
While this season is tougher to manage than past seasons, Glesenkamp has hope in athletes. 
"We have done very very well as far as the protection of our athletes. Another big part of it too is the athletes taking ownership and being careful of where they're going, and what they're doing,"  Glesenkamp said.