Local businesses adapt to Covid-19 restrictions
As Covid-19 continued to spread, Governor Mike DeWine had talked about potentially putting Ohio on another lockdown if the number of cases didn't slow down.
There hasn't been any lockdown as of right now but DeWine has issued a state-wide curfew from 10 p.m to 5 a.m and recently extended this curfew until January 2, 2021.
Todd Daughenbaugh, owner of Fresh Start Cafe and Bakery, says he expects that there may be a partial lockdown.
"I think there will be targeted things happening, like the curfew and the alcohol sales restrictions, so I wouldn't be surprised if there were more targeted things that may work like a lock down," Daughenbaugh said.
As more restrictions are put in place, Daughenbaugh has put more precautions in place for his business.
"We've always had a focus on cleanliness, but certainly we upped our game to do routine cleanings," Daughenbaugh said. "We'll go through every two hours and do a wipe down of all the surfaces in the business, and we also do health checks every morning when someone comes on shift."
Sam Tedeschi, who works at Amato's Woodfired Pizza, said that Amato's has also implemented new Covid-19 precautions.
"Barriers were put up in between every table in the dining room and the patio seating was spaced out even more than before," Tedeschi said. "Each employee is also required to do a temperature check and evaluation before they even are allowed to clock in for a shift so that we avoid risking exposure while working."
Tedeschi said that Amato's is not only flexible with the Covid-19 accommodations, but they are also flexible when it comes to their employees calling off due to Covid.
"Due to Amatos' staff size, we have enough people as backups for a shift if someone does test positive," Tedeschi said. "The managers are all super cool about taking time off when needed, and everyone at Amato's is generous enough to cover shifts when the need arises."
Many local businesses, including Fresh Start Cafe and Bakery, have curbside pick-up options for those who want to avoid exposure as much as possible and also as a way to still be in touch with the cafe's skills.
"One of the things that is unique about us is our products do not change every day, but our flavors and such do [change]," Daughenbaugh said. "Our bakers choose the flavors for that day. Some people will call in and ask about our flavors of the day, and if we can run it out to their car when they get there, we'd love to do that."
Daughenbaugh said he wants people to know that there is no pressure to go out and shop at businesses right now, especially for those who are nervous about exposure as the number of Covid-19 cases rises.
"If you're comfortable doing business with us, great," Daughenbaugh said. "If you're not [comfortable], we understand."
About the Contributors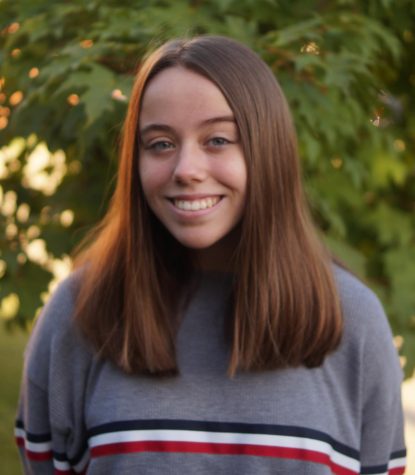 Maddie Wells, Staff Writer
Maddie Wells is a junior this year at Hayes, and this is her first year on the Talisman staff. This will be her third year participating in Track and Field...
Kristen Smith, Staff Writer
Kristen Smith is a junior. This is her first year on staff. She is also involved in Global Scholars and volleyball.