Shift to online learning has impact on art classes
Due to the effects of the Covid-19 pandemic, all classes at Hayes High School were moved to online instead of in person between Thanksgiving and January 8. Although this was a necessary precaution, some classes have found it hard to adapt to the new model.
"I think there is a lot of stuff that could be done online for classes, but a lot of it needs to be done in person as well," Ceramics teacher Cynthia Vaught said.
Vaught also said that she feels as if students work on their artwork when it is convenient for them, rather than putting aside time every day to work on it.
Some students feel as if they would be producing better work if they were in class.
"
It's much easier to focus in class, and with online classes I find it hard to make myself put aside time to work on my projects."
— Emma Hannahs
"It's much easier to focus in class, and with online classes I find it hard to make myself put aside time to work on my projects," senior Emma Hannahs said.
Hannahs, who was enrolled in Painting 4 during 1st semester, said she feels that even though she is maintaining her grades, she could be putting out better work.
Another downside to students working from home is the art supplies they are given.
"One big difference is that I don't have as many supplies on-hand," Hannahs said.
Although each student is provided with the items they need to succeed, they do not measure up to the amount they have access to while in school.
While some classes have been having to find different ways to operate in order to be successful, others have not had to change much.
"My class isn't that different, only because what we do is on the computer already," senior Adan Spencer said.
Spencer, who is enrolled in video editing, says that the only real difference between the online and traditional classes is the fact that his assignments are explained over a call instead of in person.
Throughout the time spent online, most students feel as if they could always get help if needed.
"Mr. Bibler checks in on his students often and always makes sure we are all right or if we need anything from him," Hannahs said.
But no matter whether the changes are minimal or significant, motivation continues to be a problem.
"Sometimes I find myself unmotivated, but I try to stay on task so I don't have to worry about turning things in on time," Spencer said.
About the Writer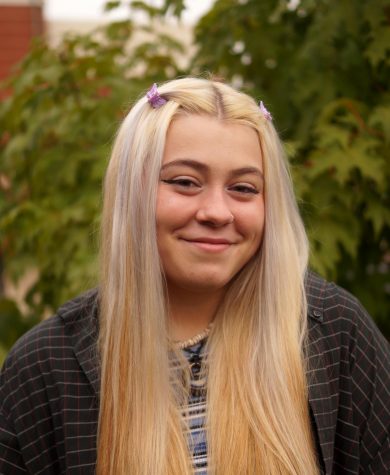 Harley Barnhart, Staff Writer
Harley Barnhart is a senior at Hayes and this is her second year on staff. She spends her time hanging out with friends or playing with her dogs.