Mental health impacts return to in-person school
For the first time in over a year and a half, Hayes is returning to full time, in-person school, which leads to concerns about the mental health of students.
At the end of the 2019-2020 school year, the student body ended up going fully online during the quarantine. Last year, most students followed a hybrid schedule, except for the short period in the winter of 2020 where students were required to go remote once more. Meanwhile, about a third of the population was fully online for the entire year via the DCS Online Academy.
While there are both negatives and positives of returning to full time in-person learning, most people believe that the positives outway the negatives when it comes to the mental health of the majority of Hayes students.
"I think there are more positives than negatives," principal Ric Stranges said. "We're all together again; I think that's what we all ultimately want. It's everybody together at some normalcy."

"
We're all together again; I think that's what we all ultimately want. It's everybody together at some normalcy. "
— Principal Ric Stranges
However, that does not mean that negative effects of returning were not taken into full consideration. The possibility of a hit to students' mental health was carefully thought about and precautions were taken to help with any concerns that were brought forward.
"We put a number of things in place, to hopefully address some of the mental health issues," Stranges said. "An extra counselor, counselor intern, [and] we have an extra [Syntero counselor] here."
Measures have been taken in order to help re-form bonds and connections between all students and staff members throughout the year, namely in House.
"In House, we're doing a lot of things to reconnect, re-establish relationships, and rebuild connections," Stranges said. "Not only student to student, but teacher to student."
Teachers are putting more thought into the fact that most of their students have not interacted with a large group of other students for well over a year and began the school year by carefully easing them back into the socialization aspect of school.
"The first week, we just kind of did a lot of puzzles and games [to] try to kind of ease their way back into talking with everybody," math teacher Kathy Kraus said. "We are actually talking in class because last year's classes were very quiet."
Consistency is a major part of what students need this school year after being in and out of school for the past year and a half.
"I'm super excited that everybody's back in person," Kraus said. "I think overall, both educationally and mental health wise, it's better to have everybody back five days a week, more consistent."
Not only are teachers ecstatic to be back five full days a week, but students are also looking forward to some normalcy being reintroduced into their lives.
"I feel great about being back in school full time," sophomore Taylor Smith said. "I feel more like myself and more open to connections than before."
Though many students are excited to be back, some have found it to be a bit overwhelming with the sudden change in workload and socialization.
"So far it's been difficult trying to get back into my old schedule of getting home and hopping straight to my homework," junior TJ Allen said. "I have other stuff going on between home, work, and school. So far this year has taken a slight mental toll on me but I hope it just gets better since I've been going to counseling."
Although most students are aware that being back full time will be beneficial in the future, they have encountered stress as they try to get back into an old routine.
"I'm glad we are back full time," Allen said. "But it's hard for me to get back to my normal schedule."
In the end, the majority of the student body has already seen an increase in their mental health and hopefully as the year goes on, more and more will see a rise in their mental health and motivation for school work.
"Coming back, I feel that my mental health will skyrocket compared to what it used to be," sophomore Rosemary Cranston said. "No more being stuck at home, struggling to open my chromebook and log on."
Leave a Comment
Your donation will support the student journalists of Rutherford B. Hayes High School. Your contribution will allow us to purchase equipment and cover our annual website hosting costs.
About the Contributor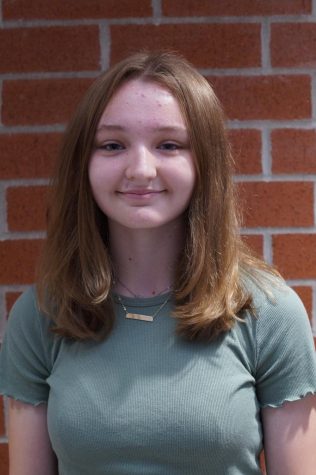 Elizabeth Atanosian, Staff Writer
Elizabeth Atanosian (she/her) is a junior at Hayes and this will be her first year on staff. She runs cross country and track. She also spends the majority...