Students skeptical of Homecoming changes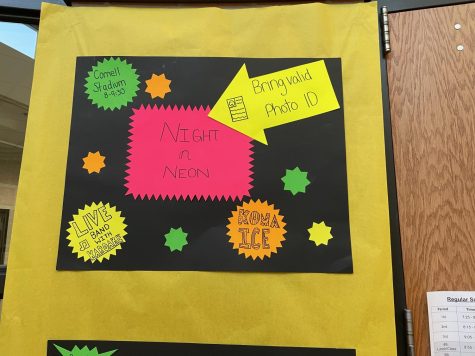 Some students are worried about homecoming being less enjoyable than in previous years due to Covid regulations. For some students, homecoming has been considered to be an exciting time. It brings everyone together and allows them to enjoy a night with their friends and peers.
A concern about homecoming this year is the risk of Covid. In order to try to prevent the spread, the dance will be hosted outside on the football field.
"I think location was a big thing too," student council member Maddie Stahl said. "If we're inside, we know people don't want to wear their masks…but it's still a big worry, so we are recommending people still wear masks, even though it's outside."
A big worry for students planning to attend homecoming this upcoming weekend is weather conditions, especially as there is no rain date.
"I am not a huge fan of it being outside since it could be cold," senior Miranda Gemberling said.
Even though there is no rain date for this year's dance, it seems that it will take severe weather predictions before any cancellations are considered.
"It's going to have to take a big downpour if it's raining," student council adviser Joanne Meyer said. "It is going to take major weather."
One complaint throughout the student body is the fact that spike heels are not allowed on the field. In order to still wear heels with their dresses, many students have decided to wear heels for pictures and dinner and then change into more comfortable shoes for the dance.
"Thicker heels are fine," Stahl said. "Just not any kind of stiletto heels. I even bought stiletto heels for homecoming. I'm just going to be wearing them during my pictures, and then I'm probably going to change into Converse and have a fun time dancing around."
In past years, homecoming has always been mid to late September, while this year it was moved to late October due to student council trying to get back on track after last year.
"We just didn't have a lot of time to plan out homecoming," Stahl said. "We didn't really have a first student council meeting until the second week of school so we had to brainstorm all of that and then there was still the fact that having homecoming in general was still up in the air and we still had to get it approved."
The layout of the dance will also be much different than years past.
"We're going to put a tent in the middle and that's where the band and the dancing and stuff will be," Meyer said.
Along with space to dance, other activities will be included for students to interact with throughout the night.
"We have photo booths and we're going to have some selfie stations, and there's a couple other things," Meyer said.
In order to ensure that the dance is safe for all attending staff and students, security measures will be put in place just as they are every year.
"We will also be checking student IDs, with your ticket," Stahl said.
Checking tickets and IDs aren't only to make sure that students paid to get in, but are also precautionary measures in order to prevent outside students from entering the dance.
"Outside members from other schools and other locations are not allowed to come," Stahl said. "This is just a health department thing. It can be really dangerous for us if we let them in if they're not wearing a mask around other students, we do have security and we have cops that are going to be there looking around."
With homecoming around the corner, the student council is doing all they can in order to perfect the dance and make it the most memorable compared to those of previous years for students who will be attending, even with the changes that have been made.