Art community at Hayes gets recognized for work
Hayes students over the years have won many awards at numerous art shows like the Scholastic Art Awards and the Governors' Art Exhibit. This year is no different. Here are some of Hayes' art show winners so far.
Delaware County Art Show
Sophomore Brenna Elam has been taking art classes for two semesters now and hopes to continue taking this class in the future. Brenna won 3rd place in the Delaware County Art Show for the piece she calls "My Grandmas." This piece was inspired by Justin Henry Miller's work.
Although Elam hasn't been pursuing art for that long, she plans to explore different styles in her pieces.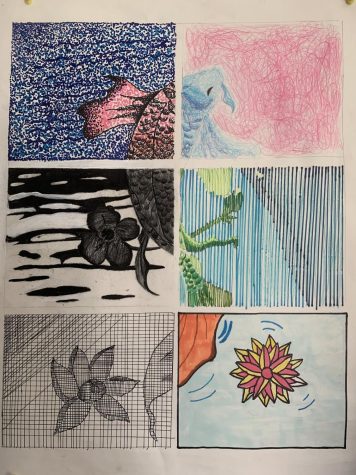 Elam wasn't the only one who won an award in this show. Junior Kai Cannon also won 2nd place for one of their drawings in the Delaware County Art Show.
Ohio Governor's Youth Art Show
Senior Meaghan Buckler has submitted work to the Scholastic Art and Writing Awards and the Governor's Art Show. This year is Buckler's first year submitting work into an art show, where she won an honorable mention for her work entitled "Bird Dance."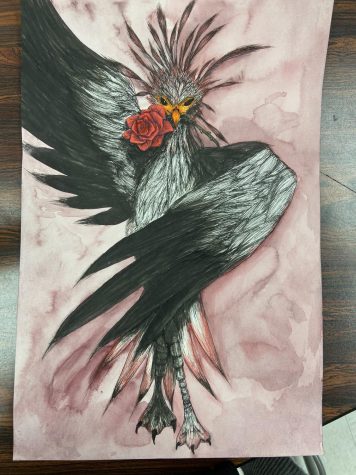 Some of Buckler's other pieces include "A Face in the Dark," "A Simpler Sisters Day Out," "The Many Shades of Cassidy," and "The Tooth Fairy."
Taking an art class at Hayes gave sophomore Allison Koehler a chance to try to explore her drawing skills. Koehler submitted her work "Boston Park" to the Ohio Governor's Youth Art Show, where she won a regional award.  "Boston Park" gave her the challenge to try to draw something pleasing to the eye while also challenging her to incorporate water reflections.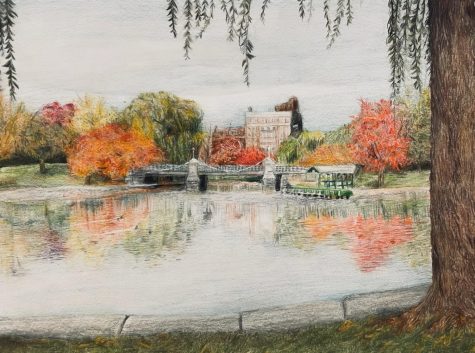 Although Koehler has not yet submitted other work to shows, she hasn't stopped creating abstract drawings. One example of this would be this piece, inspired by Jaye Bumbaugh's drawing of crows. But instead of crows, she chose her subject to be pigeons.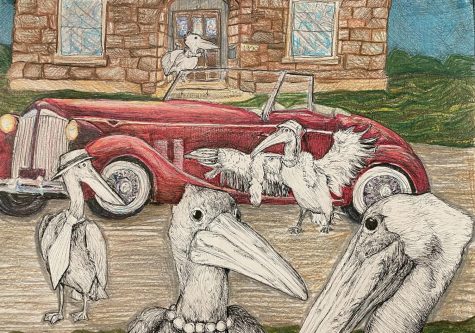 Laura Ewell, a senior, won a regional award for one of her pieces at the Ohio Governor's Youth Art Show.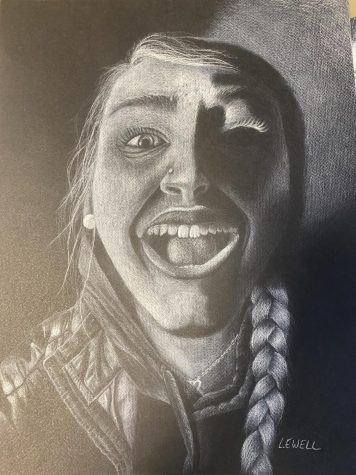 Scholastic Art and Writing Award
Senior Natalia Sanclemente has done multiple pencil drawings that have been submitted to art shows. This year, she won an honorable mention at the Scholastic Art and Writing Awards for her piece "Strep Throat." Sanclemente said she likes more of a creepy approach to her work to get the audience thinking about the story behind her drawing. This particular piece was inspired by a project in art class, "The Justin Henry Miller" project. With this project, students had the opportunity to create work inspired by this artist while putting their take on his work.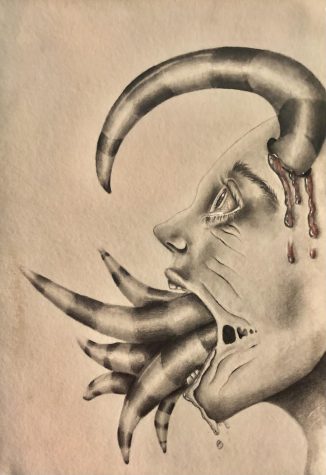 Sanclemente has submitted other pieces to art shows as well her pieces, "I Shouldn't Have Eaten That" and "Here Comes the Airplane."
All of junior Macy Flynn's artwork has been submitted for awards this year. Flynn won an honorable mention in the Scholastic Art and Writing Awards for her piece called "I Wish You Were Here" This piece was a zoomed-in picture of her boyfriend made entirely of dots.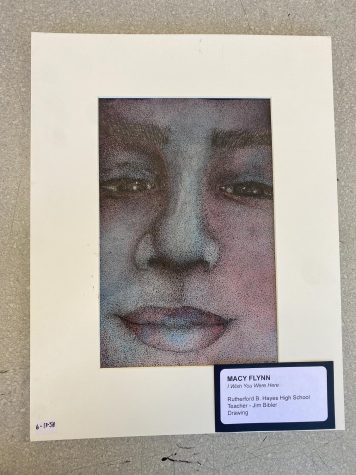 Flynn also submitted her other pieces, such as "Colors of The Soul" and "Listen, It Wasn't Me."
Another artist who won an honorable mention was junior Paige Ferrand.
The Art Castle Show
Senior Lonny Curry has a potters wheel at his own house and is also taking Ceramics 4 at Hayes. With this, he has plenty of practice for his pieces. This year, Curry entered the Art Castle Show. He won second place for his "Starry Night Twisted Vase." During the month of February, his piece was displayed at the Art Castle to show off his skills.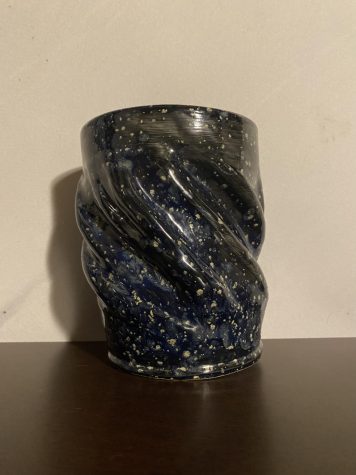 Curry has created many other pieces in school and outside of school. Here you see a crackled pot, with twine wrapped handles, as well as a 'donut' teapot.
More Work From the Art Program: