Justice looks at taking twirling to the next level
When Jenna Justice started dancing at the age of two and twirling just a few years later, she didn't know that this would become such an important part of her life.
Now, as she travels across the country to compete and win titles, some of Jenna's best friends have also come from this sport, making the sport event more important in her life.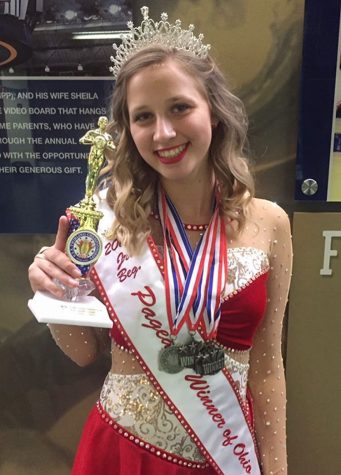 According to Jenna, there are four categories in baton competitions: novice, beginner, intermediate, and advanced. These divisions depend on the amount of wins one has had, moving up once a certain amount of wins is reached. Jenna typically competes at an intermediate level.
"So far my biggest accomplishment is that I've won two national titles in two different events. And I've placed in the national pageant, which is for all of the pageant winners from each of the states," Jenna said.
Twirling since she was seven, Jenna has always wanted to be a majorette and twirl at  college football games, if not still competing. "I'm not set on a college yet, but I'm looking at a couple and learning about the audition process," Jenna said. "My top choice right now is Eastern Michigan University to be a future twirler."
As baton twirling is a year-round sport, it can be tricky to balance with academics. Practice runs from 5:00 pm to 8:00 pm on school nights, with the addition of individual practicing before or after the group practice time. Jenna has had to learn how to manage her time in order to finish school work on top of a busy baton schedule.
"I make sure I get all my homework done before practice and I manage my time, so even if I want to stay at the gym for more hours, I know that school is my priority," Jenna said.
Although it is a lot of work and investment of time to reach her goals, Jenna has immense enjoyment in twirling beyond the competitions.
"I love the feeling of doing something different because it's a combination of so many sports that it gives me a lot to work on," Jenna said. "It's also really fun learning new tricks and it's satisfying when you finally master things."
"Everything I get out of it is because of what I put into it," Jenna said. "If I work hard, I know I'm gonna see the results I want."