Hayes students look forward to a more normal school year
Three years ago, one word suddenly and irrevocably was added to everyone's vocabulary: Covid.
The virus left everyone scrambling to find ways to adapt to the quarantine. Of course, that included schools like Hayes, which went remote for the later part of the 2019-2020 school year, and spent the year after that on a hybrid model, with an option for remote learning.
Things began to return to a sense of normalcy again with the 2021-2022 school year, and students at Hayes felt like a lot of programs and activities they were once familiar with had not come back nearly as strong. It really was a period of adjustment for everybody.
That hasn't stopped teachers and administrators at Hayes from coming straight out of the gate this year, trying to deliver the best for this year's students.
One major problem was the disconnect between everyone, especially students and teachers. For a while, students only knew their teachers from the view of a tiny box in the corner of their Chromebook screen. There was no way to physically engage with students, and no way to get them excited about learning.
Last school year, nothing seemed truly normal yet, because students were so used to learning remotely.
Ariel Uppstrom, an English teacher at Hayes expressed her excitement about being back to normal. "I am looking forward to being able to continue to build relationships with kids and some sense of school spirit," Uppstrom said.
People benefit when they are in an environment that feels safe and welcoming. Teachers play a big role in creating that environment, and Hayes teachers are excited about getting those meaningful learning relationships back.
Most students are also enthusiastic about getting back to the things they've missed out on during the past few years.
There are so many traditions at Hayes, like pep rallies and House Games, that had to stop during Covid. Members of the Hayes community are certainly happy they're being brought back though.
Erin Margraf, a small group math teacher in Fairview House, recognized everyone's change in attitude. "I have just noticed a much more positive outlook and attitude towards being in the building and being a part of the culture at Hayes," Margraf said.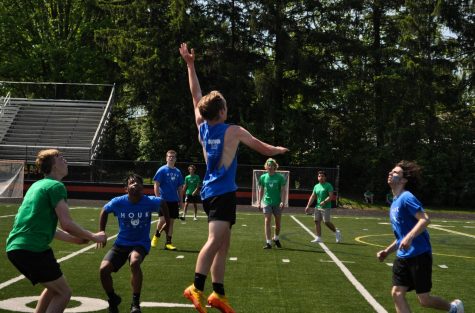 The photograph above, taken by Talisman staff member Sidnee Stanley, shows students during the 2022 House Games enjoying the chance they got to represent their respective Houses during the day's many events.
House is a huge part of what brings Hayes together, giving people a chance to make new friends across all grades, and it also enables students to have a little bit of friendly competition to blow off steam. It's essentially one last push to get to the end of the school day. Now that House is back, students are excited, and they have already demonstrated teamwork and a willingness to tackle House activities that are thrown their way.
That excitement has also been seen carrying its way into students' academic careers as well. They are eager to learn and eager to help their peers learn.
In addition to staff seeing positive change at Hayes, many students are noticing it too. They're willing and ready to make Hayes a better place for everyone.
"I'm excited to make new friends and learn fun things in my classes," junior Morgan Hall said.
Students are ready for a normal year. The staff and students are engaged, because they are willing to build off of each other and create an ideal learning environment.
Overall, Hayes has had a rough couple of years. They're ready to put an end to that though. Gone are the days of virtual learning and social distancing. Now, the Hayes community is as strong as ever, fueled by the desire to keep everyone safe and happy during their high school careers.
Students and teachers are working together, even implementing new leadership programs at Hayes to help students get the best learning experience they possibly can. The spirit and camaraderie seen this year is sure to carry on in the future, impacting generations of Hayes yet to come.