Kid Cudi's new album 'Entergalactic' is disappointing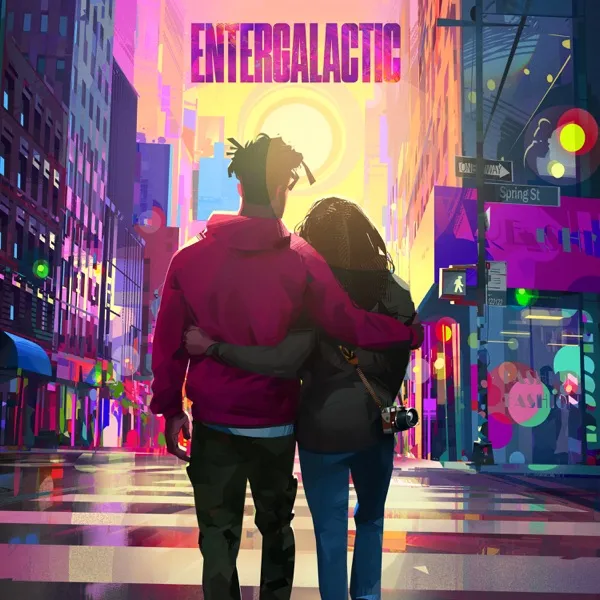 Kid Cudi released "Entergalactic" on September 30, 2022 along with an animated series.
Kid Cudi (Scott Mescudi) is an artist who was born in Cleveland Ohio and attended Shaker Heights High School.
His childhood events and his parents significantly made an impact on his music. His mother was a teacher, and his father passed away when he was around 11 years old.
Cudi gained popularity off of his "Man On The Moon" trilogy, which includes three full albums, with deluxe versions of the first two. Cudi arguably has one of the best hip-hop voices, along with one of the best trilogies in the genre.
His newest album "Entergalactic" was very differing from his others, and not in a good way. The album does not match the variation and creation of his other albums, and it is not nearly as experimental as his other albums were. Kid Cudi is infamous for trying different styles, and although it may not be something that would suit his medium, he has always managed to find a way to make it work.
The album follows more of a modern flow, which works for him usually. Still, something about the lack of production, along with the similarity within a lot of the songs, just lowers the listening value of this album.
Cudi did manage to release some previously unreleased music that many fans have been eager about. "Livin' my Truth" was originally leaked as a song called "We Forever ft. Kanye West," which is arguably the best song on the album. There are also other songs to emphasize, such as "New Mode" and "She's Lookin' For Me."
The transitions were very inconsistent too. The intro into "New Mode" gave the album a very good beginning, with an atmospheric feeling that really gives the tone that Kid Cudi was aiming for, but songs that follow, such as "Angel," were major letdowns. This continued to happen: "Willing to Trust" was a very good song on the album, through the atmospheric tone and overall production, but "Can't Believe It" follows, which ruins the listening value throughout the album.
The stability of production ruined the album significantly. Some songs felt like the production is some of the best in Cudi's discography, but others were very poor, which emphasizes the disappointing factor of the album.
Ever since the feud between Kid Cudi and Kanye West, his life has been based more on his problems, rather than what he does for a living. He expresses this in "Do What I Want."
The way Kid Cudi is now condemned on social media could have affected the way that the album was created negatively due to recent tension with other media stars.
The album was somewhat disappointing and did not match his other albums' level. It is better than his album "Speedin' Bullet 2 Heaven," but it cannot be compared to albums such as "Man On The Moon: The End Of The Day" or even one of his experimental albums such as "Indicud."
Overall, the album is a bottom tier and is a major letdown within the hip-hop community.