Community celebrates Rutherford B. Hayes's 200th birthday
Rutherford Birchard Hayes, the 19th president of the United States, would have turned 200 years old on October 4.
Delaware takes a lot of pride in being the hometown of Hayes; Rutherford B. Hayes High School is named after the president, along with having a statue of the president downtown.
Hayes was elected president after a 185-184 electoral college win, where he served one term from 1877-1881, during the end of reconstruction.
"There are only 44 cities in the country that have a president born," Hayes principal Ric Stranges said. "To me, it makes an impact to have a president born in our city."
Hayes was born about 10 weeks after his father passed away, and he was often sick as an infant. Rutherford's mother, Sophia Birchard Hayes was often protective of her child, not letting him participate in many physical activities.
Rutherford's mother, along with his sister, taught him how to read and write, where he would proceed to get into Shakespeare's writings. He eventually attended a local public school, where he was intimidated by the number of students and the teacher who was aggressive toward other students.
Hayes attended Norwalk Seminary, and then a private intuition in Connecticut. Hayes would later attend Kenyon Law School, where he graduated Valedictorian of the class of 1842. He would proceed to become a lawyer in Cincinnati.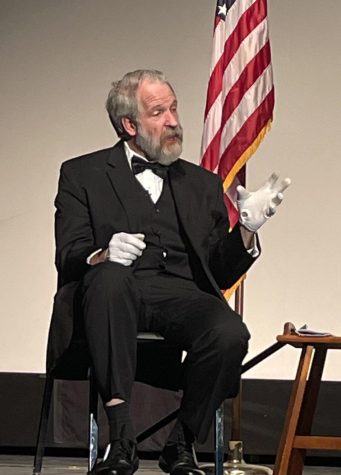 Hayes would eventually partake in a lot of clubs and local events in Cincinnati, but his true love was a woman that he met in Delaware, Ohio. He would, later on, marry Lucy Ware Webb.
After his years as a lawyer and even leading parts of the Civil War, Hayes would eventually run for Governor of Ohio; where he won by less than 3,000 votes. Eventually, he would run for president in 1876.
"He also made an impact on the world at that time," Stranges said. "He helped further education for both Blacks and whites, he was an abolitionist, he also was the first to create career centers."
For his 200th birthday, the Delaware community hosted a morning tribute ceremony at the R.B. Hayes Statue Plaza and an evening program that included a Q&A hosted by a Hayes reenactor.
"I was a history teacher, and in my classroom, I had the presidents along the top of the room," Stranges said. "Once when we got to number 19, it was always personal to me because he was the closest born president to me in my old district. I always thought it would be cool to have a born president in my town, and then I got here. It was a dream as a history nerd, to be in a city with a president, so the more things we can do to highlight or celebrate him, I'll do."