Secret Life Of Teachers: Doherty reflects on season with the Bluecoats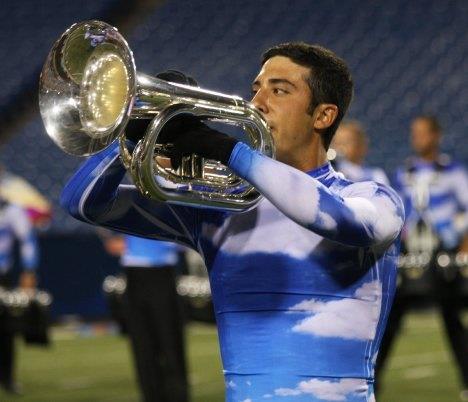 This story is part of the Talisman's ongoing series about activities that teachers are involved in outside of the school building.  Other stories in this series include features on science teacher Steve Lehman and history teacher Matt Wion.
Hayes Band director Andy Doherty played the baritone in the Bluecoats Drum Corp from Canton, Ohio in the summer of 2009. The Bluecoats got 6th place at DCI finals while Doherty was a member of the band.
A Drum Corp is a marching band that includes brass instruments, percussion instruments and a color guard. Members of a Drum Corp can be between the ages of 13 and 22, and there are many divisions of competitions for Drum Corps. One of them, Drum Corps International (DCI), is a summer touring circuit made up of the most elite Drum Corps.
Some of the top bands in DCI include the Blue Devils, Santa Clara Vanguard, Carolina Crown, the Bluecoats and the Cavaliers.
Before his freshman year of high school, Doherty had never heard of DCI. During that year, his friend introduced it to him, and after that he was hooked.
"One of my friends at band camp showed me a video of the Cavalier show for 2004," Doherty said. "They did a James Bond show and I was very into James Bond at the time. I was like, I have to do this, and I really wanted to do the Cavaliers like my entire time in high school."
His sophomore year of high school, he went to a Cavaliers camp in Chicago. He got a call back but didn't end up making it that year because he was only 15 and wasn't good enough yet.
After high school, he didn't immediately try out for any Drum Corps. He took a year off and then looked for a Drum Corp that was more convenient for him. Since the Cavaliers were based in Chicago, he was forced to find a new Drum Corp that was closer to his roots in Ohio.
"When I graduated high school, I took a summer off and went to college," he said. "Through college I wasn't really able to get back and forth to Chicago, so I was looking around other places I could go."
"
You were either practicing or you were performing."
— Andy Doherty
The Bluecoats stuck out to him because they were close and he liked their recent shows. He auditioned and immediately got a contract.
Over the course of the summer, he travelled across the country.
"We started in Columbus and then went all the way out to California, and drove all the way down the coast all the way through the south and just like seeing the Rockies and the Pacific Ocean, and just all the sights that we saw there was pretty incredible," Doherty said.
From May to August, he practiced for 12 hours a day, with only 2 days off the entire summer. The band would sleep on the charter buses while they were traveling.
"You were either practicing or you were performing," he said.
From his experience in DCI, Doherty said that he learned many things from both a personal standpoint and a teaching standpoint.
Marching in the Bluecoats taught Doherty how to teach a band, and helped to build his teaching style. He learned how to run a rehearsal and what a good band sound was. He also learned teaching techniques and styles that helped him to build his own.
His all-time favorite memory from that summer was when he got to perform at DCI finals.
"If I had to pick just one, it would be performing at finals, because you're in the Lucas Oil Stadium, it's a massive crowd and…it's an NFL Stadium and the stands are packed," he said.
Looking back, he said there's not much he would want to change.
"I would have packed in a different bag," he said. "I did not like my bag, that was a struggle all summer."
Despite his love for the activity, Doherty was only able to march for one year because his life took a different track and he didn't have enough time or money for another year.
"So the next year, I had to take a class online to stay on track for college," he said. "Then my senior year, I had a teaching job that I was really excited about, and I just couldn't make it work."
The biggest thing that Doherty learned is that he can always push the limits to achieve anything he puts his mind to. He preaches this to his students on a very regular basis and makes sure that they all know that they can do more than they think they can.