Multiple Covid-19 vaccines show promise while pandemic still rages
Several different Covid-19 vaccines are expected to be available in the US by the end of 2020, however, it may take months for vaccines to be available for the general public.
Pharmaceutical companies Pfizer/BioNTech and Moderna applied for an Emergency Use Authorization from the FDA in late November, and their respective vaccines may be available to high-risk populations before the holidays.
Both Pfizer and Moderna have developed and tested their vaccines in clinical trials, and each company claims to have an efficacy rate over 90 percent.
Meanwhile, AstraZeneca/Oxford, another vaccine frontrunner, may not have US Covid-19 vaccine trial results until late January, but its results from trials in Brazil and the UK show promise.
Due to the fact that a vaccine may be available soon but in limited supply, the Advisory Committee on Immunization Practices (ACIP) from the CDC has recommended that healthcare workers and the elderly living in long-term care facilities be prioritized.
Currently, state health departments around the country are working with the CDC and the National Guard and making plans to distribute vaccines as quickly as possible in anticipation of the authorization of either vaccine.
However, distribution comes with a set of difficulties.
While Moderna's vaccine can be stored in a regular freezer, Pfizer's vaccine presents a unique challenge due to its need for ultra-cold storage at temperatures as low as -70℃ (-94℉). The vaccine must stay under the dry ice in transport and there's only a two minute window to transfer the vaccine from dry ice to ultra-cold storage.
Due to these constraints, health departments have been rehearsing the distribution and storage process.
"The state Department of Health is drilling receiving the vaccine, getting it to those places that we're practicing, and then those places are practicing getting it into their ultra-cold storage," said Shelia Hiddleson, the Health Commissioner for Delaware County.
Vaccines are often stored at cool temperatures, but it's especially important for Pfizer's and Moderna's vaccines because of the messenger RNA (mRNA) technology they both use. The mRNA can break down easily so the vaccines need to be frozen to preserve it.
While many people are eager to take the vaccine, others are more hesitant, especially since mRNA vaccines are fairly new and were developed at unprecedented rates. However, hesitance isn't out of the ordinary.
"There's always vaccine hesitancy; we see that in all vaccines. So in public health, we try to just make sure that we educate the very best that we can," Hiddleson said. "We educate about the vaccine itself, how it works, the benefit to the person, the benefit to the community as far as those people who can't take the vaccine, and then we also try to talk about the risks and how those could be mitigated."
Though there are no plans to make the vaccine mandatory for everyone, Hiddleson said it's important that a majority of people receive the vaccine and become immune to protect the community.
"In order for us to get herd immunity with this particular disease, we need at least 60 percent of our population to take the vaccine," Hiddleson said. "And of course the higher we can get the number, the better it will be."
When vaccines become available in large quantities, the Delaware General Health District will have a significant role in getting vaccines to people.
Having practiced mass-vaccinations with drive-thru flu shot clinics at locations like the Delaware County Fairgrounds, the health district knows it will be able to distribute vaccines to the public quickly.
"We know that even without help from the rest of our community, we can give about 221 vaccines in an hour," Hiddleson said. "So even if we only worked an eight hour day, that's 1800. When we start getting that vaccine in mass quantities, we'll probably do 16 hours."
Since the three vaccine frontrunners all require a second dose in order for their respective vaccine to be the most effective, the health district will be tracking who gets vaccinated and ensuring everyone receives their second dose.
"We have an electronic medical record that we will be keeping all of that information in and it will send out automatic reminders to people to come and get their second dose," Hiddleson said. "…depending upon how many doses we get at one given time, we may go ahead and schedule someone back for their second one."
Once a vaccine is readily available, the health district will also be tracking how effective the vaccines are by checking if individuals with Covid-19 received the vaccine.
For the time being, the health district is encouraging people to limit their exposure and take the necessary steps to stay safe.
Once the vaccines receive approval from the FDA, they'll be distributed quickly, but in the initial stages of distribution, it is unlikely that there will be enough vaccines for everyone in the prioritized groups, let alone the general public.
While the vaccines are expected to come soon, the pandemic isn't over. Rising numbers of Covid-19 cases over the past several weeks have been a cause of concern for health officials.
Additionally, the presence of asymptomatic cases means that people can spread Covid-19 without knowing it because they're not showing symptoms. According to Hiddleson, about 12.5 percent of all cases in Delaware are asymptomatic, so everyone needs to continue taking precautions in order to protect themselves and others.
"We all still need to be very diligent to do our part in protecting those very vulnerable people…by doing all of the right things: wearing our mask, limiting our exposure, keeping our social distance, using good hand washing and good respiratory etiquette," Hiddleson said. "And really, truly, thinking about who is [our] bubble and who [we] need to make sure that [we] are protecting."
About the Contributors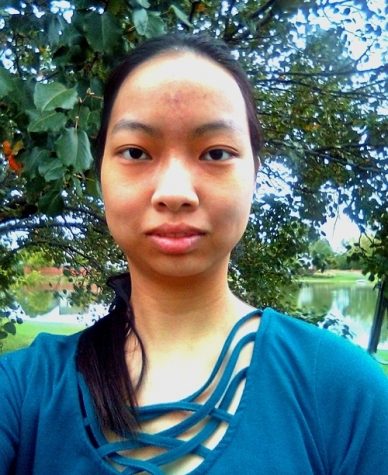 Amanda Stevens, Staff Writer
Amanda Stevens is a junior at Hayes. This is her first year on the Talisman staff. She enjoys music, dancing, and also plays violin in symphony orchestra.
Sophie Hance, Editor-in-Chief
Sophie Hance is a senior at Hayes High School and is a second year member of the staff. She is also a part of the Hayes girls' lacrosse team.