Delaware offers plenty of job opportunities for teens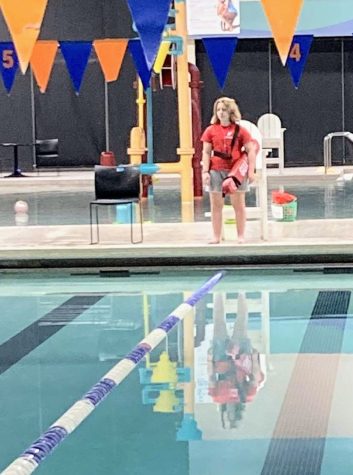 Delaware has grown quite a bit over the last decade or so. With that, many small businesses have opened up in Delaware, but after the pandemic, those businesses struggled to find work.
The population of Hayes is around 1800 students, and most of those students are of working age as well. That works out when businesses are in a pinch, trying to find people willing to work.
Many students choose the fast food route, going to popular fast food chains like McDonald's, Wendy's or Taco Bell to find work. Delaware is home to a lot of those places, many located on Sandusky Street. Just like small businesses, those large chains are looking for workers as well.
Some students do neighborhood jobs, putting their entrepreneurial skills to the test. They can go around their neighborhoods offering to do yard work, like mowing grass, raking leaves or shoveling snow. Another popular choice is offering to pressure-wash various things, like garbage cans for people.
Downtown Delaware is home to plenty of local restaurants and coffee shops that hire teenagers. Bun's Restaurant, Restoration Brew Worx, Whit's Frozen Custard, J. Gumbo's and plenty of others are looking for employees. Most of these places are flexible when it comes to hours to accommodate teenage employees, which is always a bonus.
Not only does Delaware offer jobs for teens within the restaurant industry, there are plenty of other options, like The Strand Theater, Gibson The Florist or even Beanbag Books. Whatever teens are interested in, Delaware has an opportunity for them to get practical hands-on experience before they graduate.
A popular option in the world of self-employment for students is nannying or babysitting. Many parents need help with their children, and they are willing to pay fairly to those willing to help. Though it is a job that requires a certain set of skills, it will always be available to those interested.
Many teens seek out lifeguarding jobs at the YMCA here in Delaware as well.
"I just feel like the Y has a good environment, like everyone there pretty much knows who you are," junior Caiya Combs said.
Some also seek out more unique roles within the community, like as an instructor at Empower Martial Arts.
"My job is to teach martial arts to everyone," junior Mac Coughenour said. He took something he enjoyed, and he turned it into a career path.
The jobs that teens choose to work now can very easily impact the rest of their lives in a positive manner.
"It's not the actual job itself, but what you're doing on the job," said Martin Huedepohl, a business teacher at Hayes.
Huedepohl said that no matter what job teens work, it is important to build traits that will help with future careers. There are traits that employers look for, like leadership, flexibility, and integrity. He explained that working on such traits at a young age will help teens down the road.
Small businesses in the heart of Delaware have really been struggling with finding employment recently, which is having a negative effect on business. Teens that are looking for employment could really benefit those businesses by opting to work with a small business instead of a larger corporation.
No matter what path teens want to take, Delaware has something for them. For people working a job for money, experience or even as an excuse to get out of the house, there are so many options that are available if they choose to pursue them.