Hayes Thespians showcase their talents in 'Almost, Maine'
For more photos from the fall production of "Almost, Maine," check out our photo story.
The Hayes Thespians put on "Almost, Maine" October 28 and 29, which consists of 9 short stories pertaining to love.
English teacher Kelsey Wright headed up the position of head director for the play.
"['Almost, Maine'] is nine stories of people either falling in love, falling out of love or trying to figure out if they love each other or not and so each scene is just between two characters," Wright said. "So it gives the kids a lot of time on stage to really show their talents."
Picking what the fall play will be is a long process. In the spring the directors go and look at the students that are currently in thespians and the incoming freshman to see what their strengths are so they can cast a successful play.
"This year was a special case because our costume director and our set build director were both involved in a wedding at the beginning of October, so it meant that they needed a show that didn't involve a lot of costume or set," Wright said. "So I started looking on the internet and looking for low key shows and found 'Almost, Maine,' and then I started realizing that my whole goal in directing the fall play was to help the kids work more on character."
"
['Almost, Maine'] gives the kids a lot of time on stage to really show their talents."
— Kelsey Wright
To be a part of the play students have to audition. Each student gets a packet of monologues to prepare and they also get another monologue at the audition to perform.
"I started doing theater in fifth grade when I was in 'Annie' and that kind of sparked everything," senior Ethan Terry said. "I was like I really like this and then I did it all throughout middle school and then I did it all throughout high school and now I'm here president of Thespian Troupe 420, it's really exciting, I really love doing it and everyone is just really nice."
Terry plays Pete and Phil in "Almost, Maine." His character Pete comes up three times in the show, while most characters only come up once.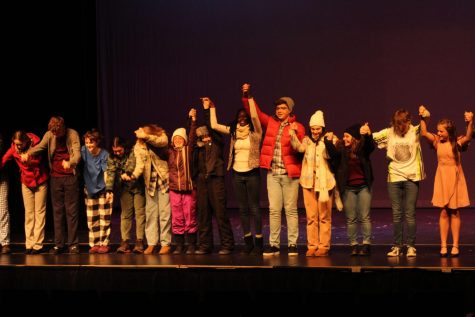 "Pete is probably one of my favorite characters I've played," Terry said. "He's just really nice and he means well, but he doesn't go about it in the right ways. Phil is probably one of the least favorite characters I've played … he's super mean. And he just doesn't learn and they eventually get divorced and she leaves him and it's really sad."
When the cast and crew came together at first for rehearsals, they rehearsed 3-5 p.m. Monday through Thursday. Then, 2 weeks before the show, they practiced 3-6 p.m. and the week leading up to the show they had practice from 3-7 p.m.
"We start with mic checks right away," Wright said. "So they get in, get their mics on, do all of that and then whatever scene or scenes we're working on for the day, we'll bring them all in for a company meeting, let them know the schedule and then the performers involved in the scene that we're starting with will go. We then encourage the rest of them to go in the hallway and either run lines or work on homework."
Sophomore Kailyn Knutson is the sound manager for "Almost, Maine." She is in charge of micing everyone, making sure all the mics work correctly and conducting mic checks.
"My parents were like, you should do theater and I was like, I'm not acting," Knutson said. Knutson said that her parents suggested trying out crew.
Sophomore Kaitlyn Wallace is also a part of crew, with a role of the stage manager.
"I'm calling the show," Wallace said. "So basically I will cue people, if they have some cue that they need, so that I can remind them and it will help the show go faster and I am pushing stuff like set pieces onstage for scenes."
Wallace decided to get involved with theater because she liked music and she tried it one time and had a lot of fun.
"I was in Frozen Jr. and I was on stage crew and it was a lot of fun, and I was like, I want to do this more," Wallace said. "So then I wanted to do it the next year but then COVID happened, so I had to wait, and then I did it when I was a freshman last year."
Terry described the show as being laid back and not as big of a scale as "Bye, Bye, Birdie" which was the spring musical.
"Everyone is kind of doing their own thing," Terry said. "I'm only scene partners with two people and some people are only scene partners with one person. So it's really condensed, but I think that's probably one of my favorite things."
Knutson said her favorite part about the play is the week leading up to the show, with Wallace's favorite part being the community it creates and theater just being a fun after school activity.
Both performances of "Almost, Maine" went very well and many people enjoyed the production, with it being a play that not too many people were familiar with.
"It's a really cool show and the kids have done a phenomenal job," Wright said.